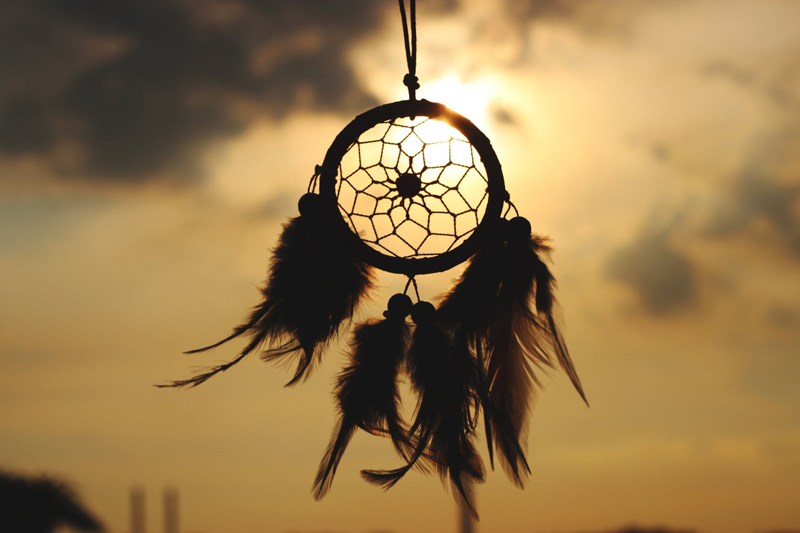 Animals are a key component of many dreams. Here are some interpretations.
Ape Monkey Gorilla Dream Symbol

Primates have very different family traits so when they appear in dreams, it is good to note the specific type. Monkeys have playful and even mischievous behaviors as compared, for example, to gorillas.
Bear, Bears - Dream Symbols

The bear represents different aspects of life from abundance to introspection.
Bird Birds Dream Symbol

Different species of birds have different dream meanings. Here are some interpretations for some of them along with general bird appearances.
Calf and Calves - Dream Symbols

This article looks at the calf as a dream symbol.
Cat Dreams

Cat dreams are often as mysterious as their real-life counterparts!
Cow, Cows - Dream Symbols

An article on cows and what they may symbolize in dreams.
Deer, Reindeer - Dream Symbols

An article about deer as dream symbols.
Dog Dogs Dream Symbol

No other animal species has been more genetically tailored to suit man's every whim. Read more to understand what a dog might symbolize when he appears in your dreams.
Domestic Animals, Animals - Dream Symbols

Animals often make appearances in dreams and they deserve special attention as they are often stand-ins for ourselves!
Dream Symbol Alligator and Crocodile

These large aquatic reptiles surprisingly appear quite often in dreams. As with other dream symbols, they represent different things depending on the other contextual dream clues.
Dream Symbol Horse

Proud and strong, the horse is a powerful dream symbol.
Dream Symbols - Insects and Reptiles

Bees, butterflies, spiders and ants......what do they mean in dreams?
Eagle, Eagles - Dream Symbols

In waking life the eagle is one of the most recognizable symbols for the US. What do they symbolize in dream life?
Fish - Dream Symbols

A guide to what that fish that swam into your dream might have to say.
Fish, Water Creatures - Dream Symbols

An article about underwater creatures in dreams and links to articles on fish, sharks, whales, and mermaid dreams.
Frog, Toad - Dream Symbol

This article explores the meaning of frogs and toads in mythology and in dreams.
Horse, Horses - Dream Symbols

Horses are powerhouses. What is the condition of your dream horse?
Lion, Lions, Lioness - Dream Symbols

Lions and lionesses have a rich mythological history making them powerful dream symbols. This article explores lions in dreams and mythology.
Ox, Oxen - Dream Symbols

In 2009 the symbol for the Chinese New Year is the ox. What do these sturdy, reliable animals mean in dreams?
Peacock, Peacocks - Dream Symbols

The Peacock is a symbol of beauty and grace - but also of arrogance and power. Which way has the peacock shown up in your dreams?
Rabbit, Bunny, Hare - Dream Symbols

A guide to rabbits, bunnies, and hares in dreams.
Rats - Dream Symbols

2008 is the Chinese Year of the Rat. What does the rat symbolize in dreams?
Shark Sharks - Dream Symbol

Sharks provide a valuable service to the ocean environment but their emotionless eating mechanism turns anything—even humans—into prey which is why we find sharks so terrifying.
Sheep, Sheep Dreams - Dream Symbols

Counting sheep supposedly helps one get to sleep, but what do sheep mean when they lead you to dream land?
Snake Dream Symbol

Because mankind has a universal aversion or fear of snakes, the snake dream symbol is most often associated with negative feelings but it isn't always so.
Tiger Dreams

Have you ever found yourself dreaming of running through the jungle being chased by a tiger? Or maybe you WERE the tiger! A look at tigers as a dream symbol.
Totem Animals

What type of message is your dream animal bringing you?
Turkey, Turkeys - Dream Symbols

Turkeys are prevalent during Thanksgiving. Are they also showing up in your dreams?
Turtle, Turtles, Tortoise - Dream Symbols

Turtles in dreams. Symbolic of winning the race, crawling at a snail's pace, or carrying the world on your back?
Whale - Dream Symbols

Whales are some of the largest creatures on the planet. They are also graceful and loving. What does it mean if you dream about whales?
Wild Animals - Dream Symbols

Are you dreaming about lions, tigers, and bears, oh my? Here is a collection of wild animals that could show up in your dreams.
Wolf Dream Symbol

The wolf as a dream symbol can represent aspects of yourself or something in your outer environment. Read more to find out how to ascertain what your dream wolf is trying to tell you.
Wolf Wolves Dream Symbol

The wolf is a symbol of wild nature, our primal need to connect with both nature (spirituality) and at times, others in a pack.
Editor's Picks Articles
Top Ten Articles
Previous Features
Site Map
Content copyright © 2018 by . All rights reserved.
This content was written by . If you wish to use this content in any manner, you need written permission.
Contact Lori Chidori Phillips for details.